Co-Pack Pouching
Delicious things, done conveniently.
Bringing cookie dough nostalgia to a freezer near you
Most of us grew up eating cookie dough as kids. For more than 30 years, we've been snacking on cookie dough pieces and calling it work. And we knew if we had the proper retail packaging line, we could share this nostalgic treat with the public.
When a large customer came to us to discuss making snackable cookie dough a retail reality, we shared our idea of pouching cookie dough pieces, and the timing was finally right to start making delicious, ready-to-eat cookie dough in perfectly convenient, ready-to-snack freezer pouches.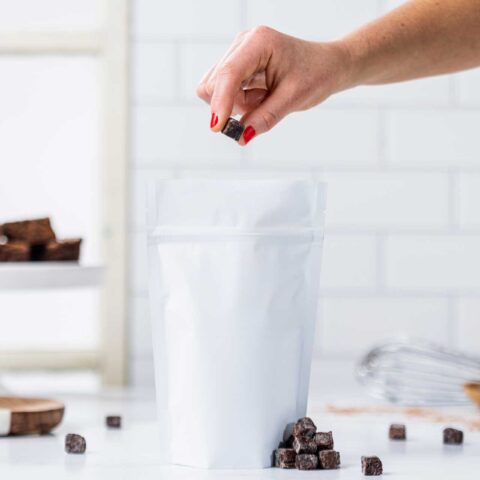 Putting our expertise to work
With our decades of experience formulating and manufacturing edible cookie doughs and baked pieces for the ice cream industry, we're uniquely positioned to produce a safe, delicious, retail-ready packaged product.
Pouching Line Capabilities
Minimum Run:
30,000
pouches
---
Pouch Material:
from full barrier to recyclable material
Pouch Dimension Parameters:
---
Width: 3.9 inches – 11 inches
Length: 5.9 inches – 13.8 inches
---
Pouch Fill Weight Parameters:
---
Product:
Ambient to frozen ready-to-eat food pieces
Learn from the experts
See for yourself—watch our video to see how we create custom edible cookie dough:
At Rhino, we pride ourselves on our customer service!
Our daily goal is to make decisions that delight our customers and build strong relationships that are aligned with each other's long-term success.
Questions about our ordering process?
Reach out to us today.