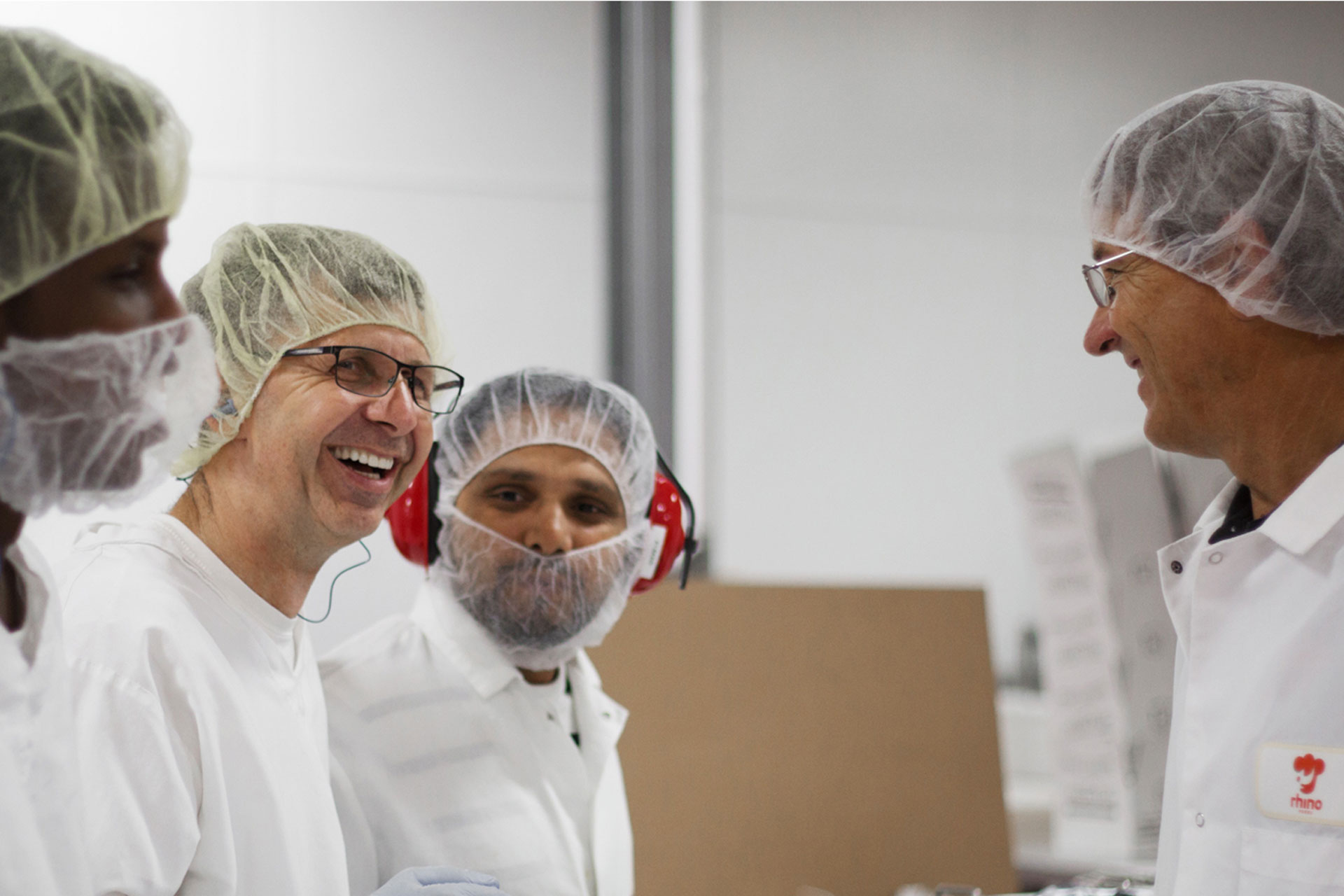 Life at Rhino
Doing right, because it's the right thing to do.
We take pride in doing right and want to share it with the world. Learn about life at Rhino and how our purpose and principles impact how we do business.
Since 1981, Rhino's founder, Ted Castle—and now his successor Rooney Castle—have strived to own a company that develops its employees, has a positive impact on the community, and shares innovative workplace practices has set the course for our growth and culture. Over time, this evolved into our Purpose and Principles:
Purpose:
To impact the manner in which business is done.
Community Principle:
We commit time, energy, and financial resources to improve social and environmental conditions. Our actions are intended to create a ripple effect of caring and involvement that influence first ourselves and then others.
Customer / Supplier Principle:
We continually strive to delight our customers and partner with our suppliers, building strong relationships that are aligned with each other's long-term success.
Employee Principle:
We establish relationships with our employees and their families founded upon a climate of mutual trust and respect within an environment for listening and personal expression. We provide a vehicle for our people to develop and achieve their personal and professional aspirations.
Finance Principle:
We emphasize long-term financial health in order to invest in our employees, customers, and community.
Vision:
To be an innovative and agile niche food manufacturer recognized for its workplace practices. We are honest, quality driven, and knowledeable. We strive to have a "can do" attitude and to be proud of everything we do.
These aren't just words on a wall these are the foundation of our living culture.  You'll often hear someone ask in a meeting, "Is this the right thing to do?"  We all know this is shorthand for, "Is this the right thing to do for us, our customers, our suppliers and our community?"
"You do right, because it's the right thing to do."

– Ted Castle, Owner
At Rhino Foods, it's not enough to simply turn a profit and do no harm—we want to grow our company and help our people. That's why we've developed innovative workplace practices to do just that. Learn more about them.
Recognized globally as a network of companies that care, Rhino Foods is a part of the Certified B Corp Community. Learn more about what it takes to attain this status and what it means for Rhino Foods.
An independent nonprofit organization funded in part by Rhino Foods, the Rhino Foods Foundation works with nonprofits and businesses that share our vision for a more stable, prosperous future. Learn more about our work.